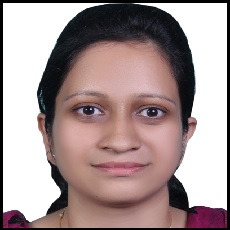 Er.Shraddha Warale
---
Research Associate (E&TC)
Academic qualifications
2020 Engineer-in-Training, Association of Professional Engineers & Geoscientists of
Saskatchewan (APEGS)
2019 Certification in CCNA (Cisco Certified Network Associate Routing and Switching)
2011-2013 Master of Engineering (Electronics and Communications)
University of Pune, Ganeshkhind, 411007
Area of Specialization: VLSI and Embedded Systems
CGPA: 7.67, First Class
Thesis project:3-Phase power measurement using MEMS for smart grid energy measurement
2003-2008 Bachelor of Engineering (Electronics and Communications)
University of Pune, Ganeshkhind, 411007
CGPA: 64.7 %, First Class
Work Experience
7/7/2008 - 6/9/2009 Graduate Trainee, Crompton and Greaves Limited Ahmednagar.
7/9/2009- 2/8/2019 Assistant Professor, Department of Electronics and Telecommunications
Shri. Chhatrapati Shivaji College of Engineering (SCSCOE), Rahuri, Ahmednagar, 413706.
Thesis Project
Project Name - 3-Phase power measurement using MEMS for smart grid energy measurement
Project Description- It's objective is of designing a three-phase energy meter prototype which functions for energy measurements and electricity consumption by the user in three load sources. The project lead to interesting conclusions, that the self-powered MEMS sensor module scavenges energy needed for its operation from the electrical circuit its monitoring. The module does not require any galvanic contact to be made as it is enough for the module to be placed in close vicinity to the conductor to both scavenge energy and perform the measurements. The module contains a radio chip, which allows it to wireless communicate the measured results. The use of MEMS technologies allows us to both keep the cost of the module low and to limit its size to that of a memory stick, making such a module the enabling technology for ubiquitous instrumentation of the future Smart Grid.
Skill Set
Programming Languages : Embedded C

Microcontrollers : 89c51,PIC16F.

Compilers/IDEs : GNU,IDE MPLAB,Keil for 8051

Protocols : SPI,I2C,CAN.
Awards
Lady Engineer Award

(2014), In recognition of outstanding performance and excellent work in Engineering, The Institution of Engineers, India.
Professional Expertise
10 years of teaching experience in the field of electronics and telecommunication.

Interim Head of Department, Electronics and Telecommunications, SCSCOE in 2012.

Project coordinator for B.Eng. students from 2012 till date.

Member of curriculum revision committee of University of Pune for B.Eng. program.

Took up various duties related to examination conducted by University of Pune, different capacities such as, external examiner, senior supervisor.

Coordinator of various major events like National Technical Events, annual social gatherings, Admission, Counseling, Training and Placement.

BEng. Courses taught:

Wireless Networks
Course Objective
Study the evolving wireless technologies and standards

Understand the architectures of various access technologies such as 3G, 4G, WiFi.

Understand various protocols and services provided by next generation netwoks.
Course Outcome
It keeps us updated on latest wireless technologies and trends in the communication field.

Makes us understand the transmission of voice and data through various networks.
Analog Communication
Course Objective
Describe and analyze the mathematical techniques of generation, transmission and reception of amplitude modulation (AM), frequency modulation (FM) and phase modulation (PM) signals.

Evaluate the performance levels (Signal-to-Noise Ratio) of AM, FM and PM systems in the presence of additive white noise.
Course Outcome
Identify the fundamental concepts and various components of analog communication systems.

Explains signal to noise ratio, noise figure and noise temperature for single and cascaded stages in a communication system.

Describes analog pulse modulation techniques and digital modulation technique.

Develops the ability to compare and contrast the strengths and weaknesses of various communication systems
Digital Communication
Course Objective
To understand the building blocks of digital communication system.

To prepare mathematical background for communication signal analysis.

Analyze the signal flow in a digital communication system.

To analyze error performance of a digital communication system in presence of noise and other interferences.
Course Outcome
Understand working of waveform coding techniques and analyze their performance.

Analyze the performance of a baseband and pass band digital communication system in terms of error rate and spectral efficiency.

Perform the time and frequency domain analysis of the signals in a digital communication system.

Design of digital communication system.
VLSI design and technology
Course Objective
Explore HDL and related design approach.

Realize importance of testability in logic circuit design.

Overview ASIC issues and understand PLD architectures with advanced features
Course Outcome
Write effective HDL coding for digital design.

Apply knowledge of real time issues in digital design.

Model digital circuit with HDL, simulate, synthesis and prototype in PLDs.

Design CMOS circuits for specified applications.

Analyze various issues and constraints in design of an ASIC

Apply knowledge of testability in design and build self test circuit.
S.R.Warale et.al. (2014): "3-Phase Power Measurement using MEMS for Smart Grid Energy Meters", International Journal of Electronic and Electrical Engineering, Volume 7, Number 1, pp. 1-9.

S.R.Warale (2016): "

Android Based Car Black Box ". International Journal for Scientific Research and Development (IJSRD)Vol.3,Issue 11,2016.

S.R.Warale (2017): "Bike Rider's Safety using Helmet".Proceedings of National Conference on "Modern Emerging Engineering Technologies.

S.R.Warale (2017): "Vehicle to Vehicle Communication".Proceedings of National

Conference on "Modern Emerging Engineering Technologies.

S.R.Warale (2017): "FPGA based Pre-bridge fall detection and Alert System". Proceedings of National Conference on "Modern Emerging Engineering Technologies.

S.R.Warale (2015): "Biomedical Data Transmission System with Central Monitoring". Proceedings of International Conference on "IJSRD Vol. 2, Issue 02 February 2015.

S.R.Warale (2018): "

National Border Security System

". International Journal for Innovation Research in Science & Technology Volume 4,Issue 8,January 2018
S.R.Warale (2018): "Super Secured Bike". International Journal for Innovation Research in Science & Technology Volume 4,Issue 8,January 2018

.

S.R.Warale (2019): "Internet of Things(IoT) based Poly house Monitoring and Controlling", International Journal for Scientific Research and Development Volume 7,Issue 02,2019